This last week has been one of those weeks.  One of those weeks where you cling on to the promise of faith because not much else seems to stay still long enough to grab on.  We lost a dear member of our congregation this week.  This woman was such an example of what the body of Christ should act like – she was a constant encourager.  But in a way that you knew she really meant it.  It didn't seem like a platitude.  It was a genuine pointing out of your gifts and acknowledging God's work in your life.
She came to our church shortly after I did.  She came with her daughter and son-in-law, always sitting towards the back on the left from where I stood up front.  Her smile was contagious and her hugs in the receiving line were always a highlight of my week.  She always greeted me with a smile and a "Hello my friend."  She asked me questions about my life – not to pry but to let me know that she cared for me, the way she cared for her own grandchildren.  She always encouraged me to share from my heart – to be honest with who I was because she loved it when I was real.
In my last post I shared that I have a hard time really speaking my truth from my story.  So today's #FridayFive is about names of God – I'm going to share the Names of God that I have discovered from the margins.
So today's #FridayFive is in her honor.  I miss you already my dear friend.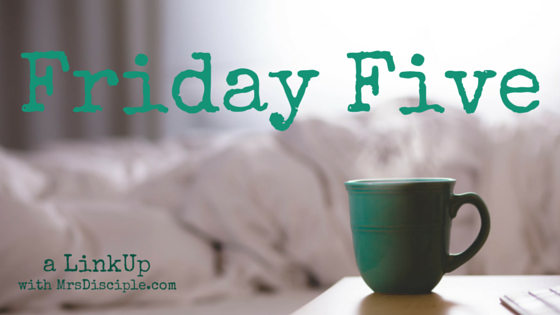 #FridayFive: Five Names of God from a Self Appointed Outsider
Heavenly Father
When I first started Seminary I took a class called Spirituality and Conflict.  The first day of class one of the teachers did a devotion asking us each what our go to name for God was, I picked Father.  At the end of class, this teacher gave us each an image for our name for God with a note in it from what we had shared over the course of the class.  It was amazing.
I often get asked about if it's hard to see God as father considering my past.  The question comes from a good place – I found God during the most difficult time in my family.  Most of my pastors and youth workers had never met my dad.  Most of my mentors have only heard the hard parts of the story.  But we had good years before the bad years.  I knew what it was like to have a dad which made the sting of his withdrawal heavier.  I grew up knowing what it was like to have someone teach you how to camp and hit a ball.  A man who I knew loved me deeper than I could comprehend.  Then in my teenage years it went away – the years when I needed someone to fight for my worth, to teach me what relationships were supposed to look like, to show me how I deserved to be treated.  But God picked up where my dad left off.  Through mentors, surrogate father figures and his soft whisper, God showed me the love that my earthly father could not.  I still mourn the years that alcoholism robbed me of with my earthly father, but I praise a God who sought after me in that time.  That still seeks after me, as a father does for his daughter.
Redeemer
I heard a sermon recently that rocked my world.  It was on the story of Joseph and she taught about the different stages of Joseph's life and how it led to something great because of God's work in Joseph's life.  God did some great things through Joseph, he refined Joseph's gifts and blessed many people through Joseph.  At the end of Joseph's life, his brothers are lamenting selling him into slavery – the evil that they did to him – and Joseph says: Do not fear, for am I in the place of God? As for you, you meant evil against me, but God meant it for good, to bring it about that many people should be kept alive, as they are today.
I've read that verse so many times and it usually gets cut off after "good" – but the rest of it is so important.  It would have been enough for God to have just redeemed Joseph's story – to end the story at Joseph not being killed or treated harshly in slavery.  But God took Joseph's story and redeemed it so that people could have life.  Not only does God redeem our brokenness – he does it so that we may bring about life in a world of brokenness.  I love that God redeems – that he takes broken stories like mine and redeems them, gives them life again so that they may be used for his glory.
Unifier
I attended a seminary that publicly endorses multiculturalism and women in ministry.  Because it's the seminary of our denomination that says these are values we hold dear.  But my time in seminary was extremely difficult, partially because God was working in me and partially because I am a female and I am biracial.  In one of our degree seeking meetings with a professor, I was asked, "What is it like to attend this seminary and not be Swedish?"  He was asking because he really wanted to know, he was one of our professors who was constantly challenging us to hear the stories of others.  He wanted to hear my experience and challenged me to share it freely with my classmates.  There were many difficult moments in those three years – moments where I felt silenced, discriminated against, marginalized but there were also moments where I felt empowered, valued and cared for by my brothers and sisters.
There was a moment I clearly remember.  A fellow classmate came to me with something that was being said about me.  He sat across the table at Starbucks from me and told me that he had gone to bat for me.  That he had defended me against what was being said about me because he knew me.  That he told the other person that wasn't who I was, to give me a chance and hear my story.  The moment stands so clearly because my classmate and I had walked alongside each other.  We knew each other's stories, we had taken time to talk through difficult truths.  God was sowing unity between us.  God used this person to help me find unity in a community that was anything but unified.
Reconciler
I fully believe that God works as reconciler.  That we cannot reconcile conflict without him.  I hate conflict.  I hate disappointing people.  It makes me physically uncomfortable.  But I am human and I make bad choices sometimes.  And when I am hurt, and I have hurt others – I am not fully capable of doing the work of reconciliation.  I mean I can say I'm sorry – but I cannot find reconciliation without my God.  I've tried.  Something always slips in and stops me from full reconciliation.  But with God, I have the strength to fully forgive and forget.  To sow back together relationships that were broken and ready to be abandoned.
Almighty One
I am always in awe of what God can do.  Through all of these other names I've written about – he has done a mighty work in my life.  This year my focus is on recognizing his hand at work in my present life.  He is the Almighty.  He is alive.  I believe these things, but it's hard to see his hand at work in the present.  I can look back and see his fingerprints on every step of the way, but to really be in tune with him and see his hand in the present has been hard.  To see him in the midst of my crappy weeks, the times when everything seems to be chaos.  I cling to faith but am I truly able to see his hand at work?  I'm trying, I know He's Almighty – I know he will do a great work.  I know He is Alive.  I trust that he will work all these things for his good.
What are your names for God?