It's #FridayFive Day!  And this one is intriguing to me!  Kelly writes about her Five Dinner Guests that she wants to invite over.  She chose five women to speak into her life.  I'm going in a similar vein but a little differently – Five Dinner Parties I'd love to throw and the people I'd want to gather around my table.  Women I love and/or admire that I'd invite over for some good food.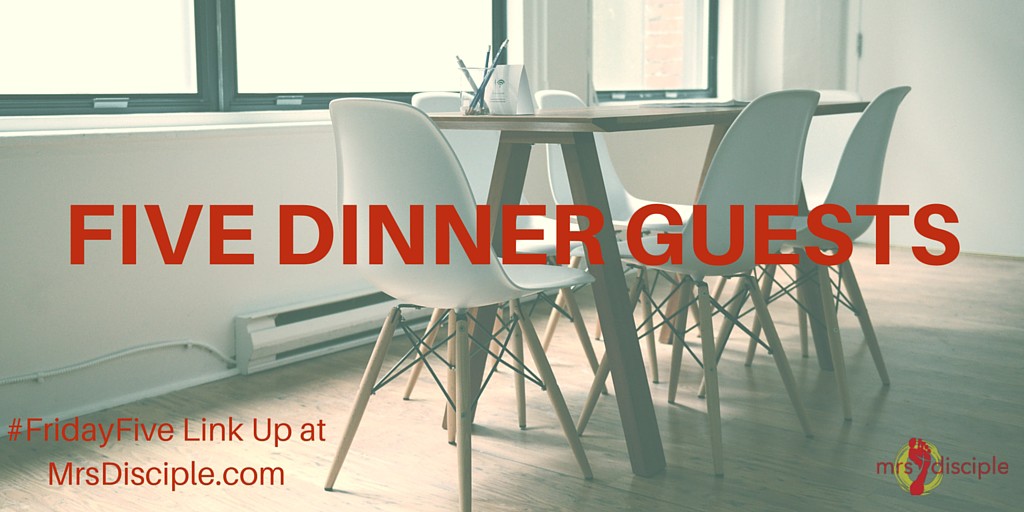 My people.
I borrow this phrase from Grey's Anatomy – the people in my life that I choose to surround myself with who lift me up and care for me the most.  These women are my ride or die friends, and they are scattered all over the US now.  One in Northern Cali, one in Seattle, three in Denver, three here in Illinois.  I'd gather them all around my table and watch them interact.  We'd laugh, share stories and talk about what God's done in our lives.  Someday – I hope this is a reality.
The women whose words have changed me
There are a few authors and speakers whose books have significantly impacted my life.  Women who have bravely shared their stories in writing and encourage others to do so as well.  I'd love to meet each of these women, I'd love to be mentored by them, but at the very least, I'd love to sit around a table and hear about their journeys.  This invite list would include Jen Hatmaker, Shauna Niequist, Sarah Bessey, Rachel Held Evans, Bianca Juarez-Olthoff and probably more that I'm forgetting.
The Real Housewives
I know, I know – I shouldn't be admitting this but I love the Real Housewives shows.  It's my guilty pleasure – I find them fascinating and season after season I find myself intrigued by what's going on in their lives.  I don't condone a lot of what they say or do but a lot of them actually seem like fascinating women.  I'd be really interested in sitting down with them – probably at Villa Blanca and just observe them.  That dinner would be Bethenny Frankel, Heather Thompson, Heather Dubrow, Lisa Vanderpump, Kyle Richards, Caroline Manzo… I think that's all.
The Celebrities
While we're talking about famous people – let's just get this one out of the way.  Famous women who inspire and fascinate me.  Women who've used their platform to encourage and lift up other women.  I want to gather them all up, at some random New York restaurant and hear their stories.  Tina Fey, Mindy Kaling, Amy Poehler, Kerry Washington, Jenna Fischer, Angela Kinsey, Sara Bareilles, Drew Barrymore.
Pastors and World Changers
These are women, within my denomination or who I've met through church and work.  For them I'd make it more of a retreat, a time away that we could rest from ministry and pour into each others lives.  This one is last in list but close to my heart.  I'd invite friends and pastors I admire, seminary professors who poured into me.  I would love to have them mentor me, encourage me, walk alongside me.  These are women who have been doing ministry a lot longer than me, who I would love to learn from.
Who would you invite to dinner if you could?