December?!  Where did you come from?  No, seriously, where did November go?
It's time for a new #FridayFive, the first of December!  This week's prompt from the ever-lovely Mrs. Disciple is Five Christmas Traditions.
Traditions are a funny thing – by definition they are meant to remain year after year.  They are things that we do during this season every year, but the thing about holiday traditions is that they change as we change.  As our families grow up, move around and change, our traditions have to change.  There aren't many traditions left in my life that linger from the days of my childhood.  From the days we were just the four of us: Mom, Dad, Brother and Sister.  (Well five, my Aunt has spent every Christmas with us that I can remember.)
Our traditions changed when we moved back to Colorado in HS.  They changed again when my parents separated at the beginning of college.  Once more when they got divorced at the end of college.  Again the second time I moved away. Again when my brother got married and filled our house with the second round of children.  Again after my dad passed away.  Once more when I moved away the final time and again when I was called as a Pastor.
So my #FridayFive Christmas Traditions are all my own now, separate from my nuclear family, although a lot of them include those 8 people I love the most.  Without further ado here they are:
#FridayFive: Five Christmas Traditions
Advent Devotionals
Every year I scour the internet for some good Advent Devos to pass along to the families of my church.  A new and interesting take on celebrating this season of Advent within your family.  But also while doing it, I look for my own devotionals for this season.  Something to help me remember to pause during this season and take time for my relationship with God.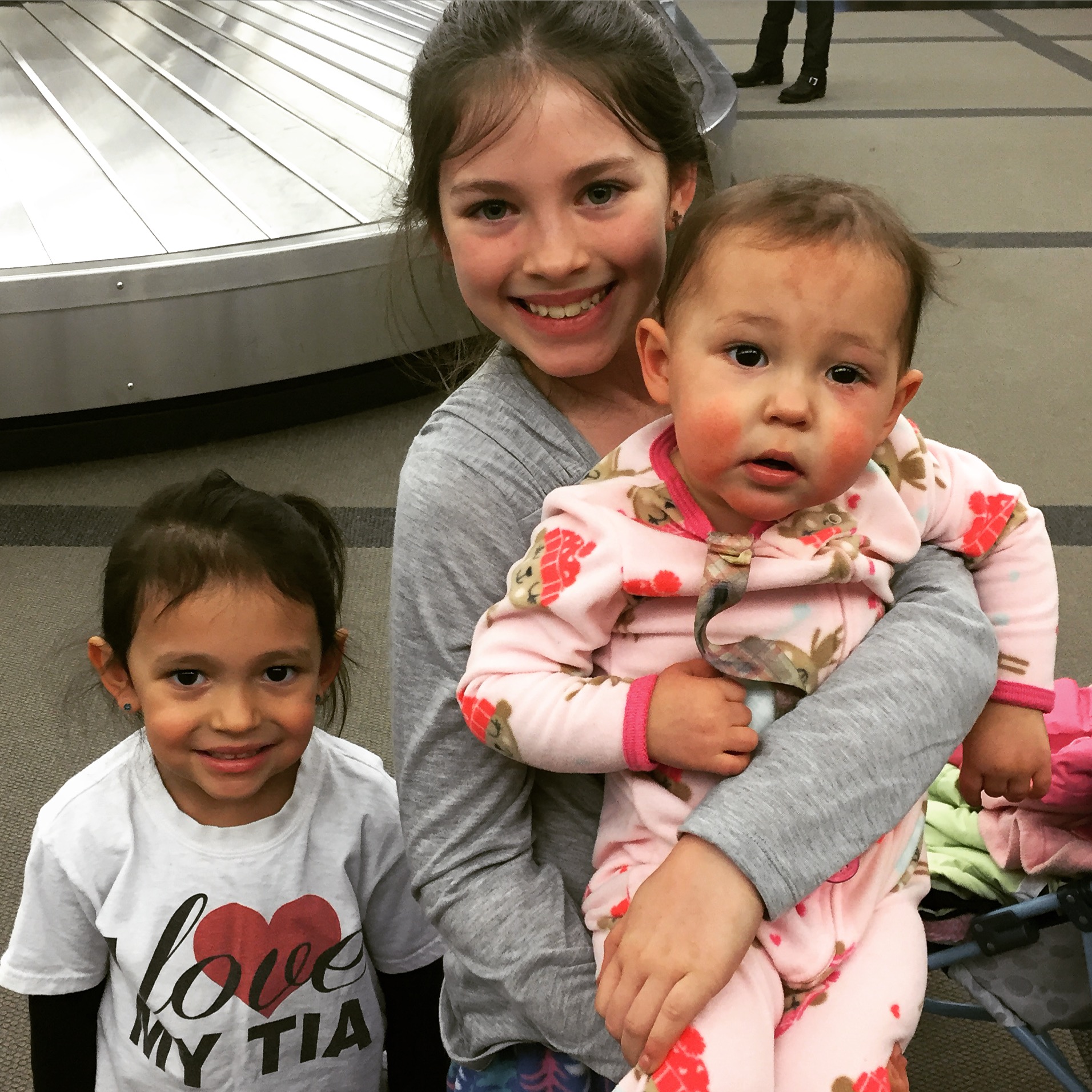 Christmas Morning at the airport
Now that I'm a full-time pastor and not just an intern, my presence at the Christmas Eve service is a non-negotiable.  Which means the days of being awoken by my nieces on Christmas Morning are long gone.  However, that does not mean I am sleeping in!  I usually book the earliest flight I can on Christmas morning which means I can land in Denver by 9 a.m. and am greeted by my littles at the airport in their Christmas jammies.  They have created their own little tradition, they can wake up early and open their stockings, and then they pile in the car to pick me up.
Present Time
This tradition has changed the least over time, sure it's morphed as we've gotten bigger, but it's still basically the same.  Once all the Santa presents are out of the way for the littles, we begin opening presents from each other.  We always go from youngest to oldest but in groups.  All the littles together, Goddaughter and me, my brother and sister-in-law, and then the moms.  Everyone has strict instructions on the order in which the presents are opened.  And the last one opened is always the "best" present.  I strive to be that "best" present giver every year – whether the goal is to make my mom or aunt cry or my nieces squeal with delight.  Or that year the Goddaughter finally got a cell phone and it was ringing under the tree.  We all want to be the one who gave the most meaningful present.  I know this seems really materialistic – and it probably is – but it's also just a really cool moment when we see everyone's creativity coming out in their gift giving.  Sometimes the girls are more excited about the presents they are giving than the ones they are unwrapping.
Elf
It is not Christmas season until I have watched Elf.  I usually watch it while I wrap presents, last year I watched it with my kids at church, this year I may just pull it out and watch it all by myself, maybe this weekend.
Christmas Eve
I know I just talked about how I no longer get to spend Christmas Eve with my nuclear family, but I really really treasure my Christmas Eve here at home, with my church family.  I love our Christmas Eve service.  I love that I have friends who invite me into their Christmas Eve celebrations whole heartedly.  I love the treasured time I have here with these people who make my life so full and my heart so happy.  The moments during and after Christmas Eve service are some of the warmest of the season. I get the best of both worlds between Christmas Eve and Christmas morning.
So there you have it, Five of my Christmas Traditions.  As I continue to build my life here as a real adult, I look forward to new traditions coming my way.  We may have lost a lot of traditions over the years to change and growth but we've also picked up some new ones.  And it's not the traditions that matter, it's the people you do them with that matter.