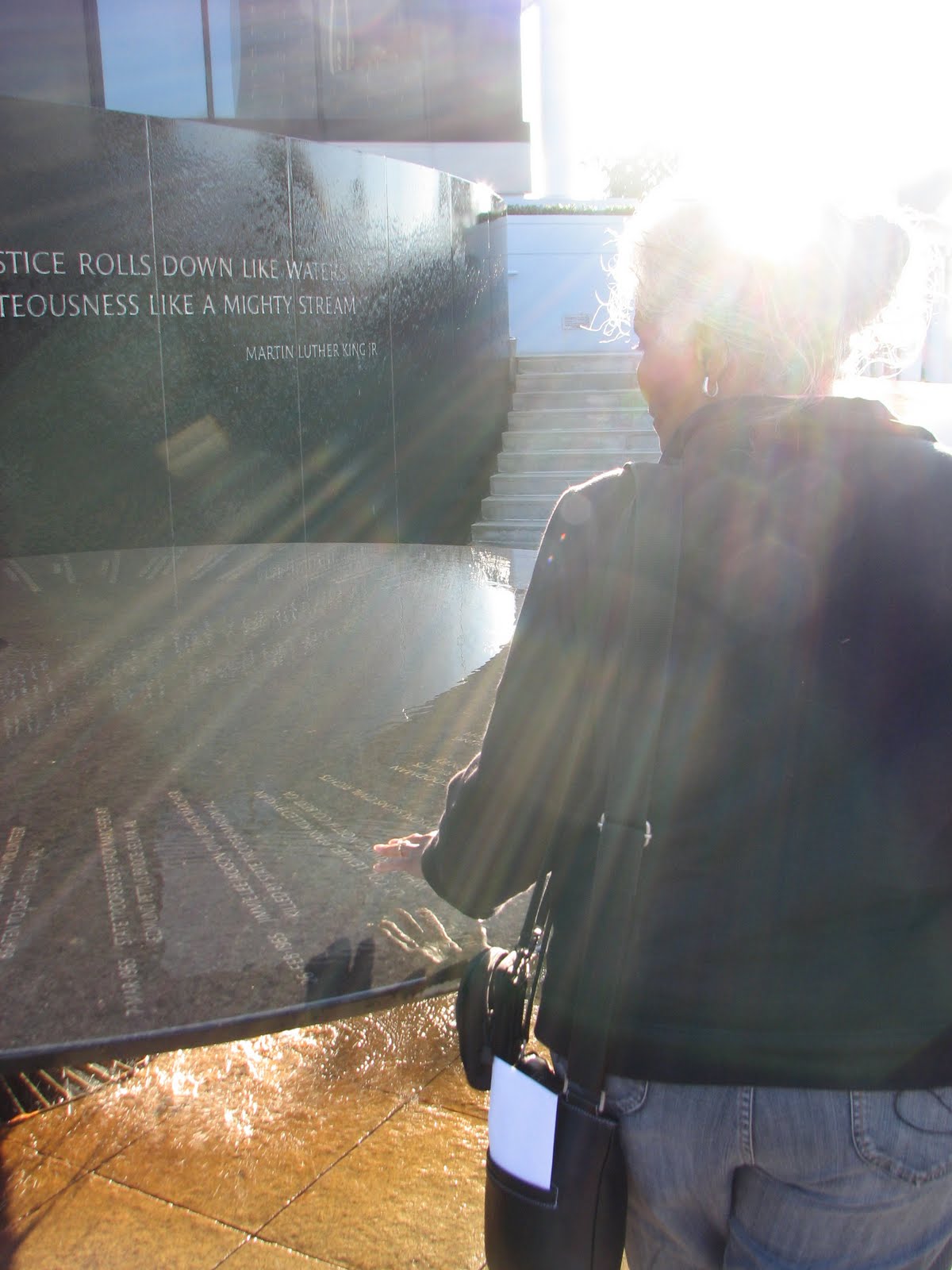 From Birmingham we went to Montgomery, AL where the
Southern Poverty Law Center
has a Civil Rights Memorial. Once again we were lead in as a group and stood in a room faced with the awful facts of this movement. On the wall were the stories of
41 people
that died trying to further the movement. On the wall were the 4 girls killed in Birmingham. As well as another boy killed that same day in Birmingham. He was riding on the handlebars of his friend (maybe brother) and was shot by a white boy on a motorized scooter riding with one of his friends. These boys were all 16 and the boy who fired the shot was hardly charged with anything.
Then there was the story of Emmett Till. An African American boy from Chicago who allegedly whistled at a white woman. Her husband and their friends kidnapped him and murdered him by tying barbed wire around his neck and beating him. His mother bravely asked for his body to be returned to Chicago and held an open casket funeral so that everyone could see what was done to her boy.
This Memorial is meant to show the events of the Civil Rights Movement and how people were killed as a result of it. Their goal was to take these names and allow them to be known and for their stories to be known.
The SPLC also pursues civil lawsuits to benefit those who are killed by hate crimes. They also monitor hate groups and have been known to shut down a couple of branches of the KKK that still exist. A truly inspiration place to be and to put your hands on the names of those killed fighting for the rights of African Americans.
Also at the SPLC is a room that has the "Wall of Tolerance" where you can electronically sign a vow to take a stand against hate, injustice and intolerance. Once you submit your vow, your name comes up on this giant video screen that goes floor to ceiling wall to wall with all these names of people who have signed this vow.
I can't begin to explain how powerful it was to stand in that room with these fellow journeyers and watch all of our names come up on the screen. One after another as we stood there and watch. It wasn't even the end of the journey but it was great to see us all taking a stand against the common enemy.
Part of the emotional hardness of this trip was feeling helpless. Feeling like I couldn't possibly know how to move forward from this trip. I still have moments of that, even now, weeks later. Thinking, how do I possibly apply the things I learned on this trip to my daily life. I mean, I live a cushy lifestyle here in Colorado suburbia. I live a segregated life, not purposefully but it's the nature of where I live. And I can't wrap my head around what it would look like to desegregate my life.
There's this mentality in "white" Christianity that in order to be around people of different life situations, we go to a "poorer" place in our state and we serve them. It's almost like we are bringing what we have to offer to a group of people that can benefit from us. (which is a bigger topic for another time).
So that's where I am … I'm trying to figure out exactly how it looks, in my life, to fight hate, injustice and intolerance. I am trying, really trying. Part of walking away from this journey is my attempt to love better. To love more. To love selflessly. It ties into everything I'm learning from God right now and it's a hard road. Because most of the time, I'm bad at it. And I'm not even really talking about loving my friends better, I'm talking about loving every individual I come into contact with. Whether I know them or not, whether they have something to give me back or not, and mostly whether they love me well or not.
So here's to love. Ugly, relentless Love. Love that's hard and love that breaks your heart. It takes a lot of courage so read the title of this blog as something I'm continuously asking for, not just a lyric from a great Jack's Mannequin song. (There, There Katie).
so see this as a to be continued…